Faster infrastructure maintenance could save the UK £500m/year
A report by transport consultants Volterra has shown that using an innovative method of ground engineering could reduce infrastructure maintenance duration by 2x to 10x, significantly reducing UK infrastructure costs, including:
Transport consultants Volterra examined the impact of faster infrastructure maintenance in the UK. They found that the use of geopolymer injection for ground stabilisation and improvement works means remediation can be completed 2-10x faster for equivalent cost. By modelling the impact on roadworks, rail maintenance and airport works they identified significant cost savings for the companies involved and the economy:
Rail Infrastructure
£400m annual savings from faster maintenance
Volterra found that previous Geobear projects with Network Rail have typically resolved unstable, rocking slab track between 2x and 10x faster than traditional methods for the same cost.
Lower Financial Penalties:
Reduction in S4 and S8 payments due to faster maintenance
Reduction in lost income from VUC
Reduction in Socio-economic costs:
Time delays to passengers
Additional costs from using alternative methods of transport
Volterra modeled the impact of Geobear's time saving advantage on three routes in Wales, North West and London, factoring in data such as passenger numbers, service frequency, planned and unplanned maintenance.
£5m per day
Saving for unplanned critical works with high passenger demand
Annual maintenance savings from reduced financial penalties and socio-economic costs
Geobear's injection method was successfully delivered in four shifts to complete a targeted structural void fill at Oxford station. The traditional alternative would have taken 5x more shifts.

Bill Smalley. Construction Manager, Network Rail.
Road
£85m per year decrease in impact from roadworks
Volterra evaluated a number of scenarios for road maintenance based on the performance of previous Geobear work including stabilisation and improvement works on the M11 and stabilising roads in Reading. They found most of the economic cost of roadworks is socio-economic - the impact of delays and closures on road users.
By modelling Geobear's typical performance improvements on road products against major and minor highway projects, Volterra were able to estimate the cost impact of faster maintenance - totalling £87m per year.
Cost Savings per km from use of geopolymer injection
Geobear's solution to the essential embankment repair at M11 Girton interchange has been a highlight of this year's 2018/19 programme of works. Overall the programme of delivery has seen large improvement versus comparative methods of work.

Karl Brooks. Project Manager, Highways England
Airports
£19.3m saving by reducing a whole-day closure to just one hour
The report modelled potential runway closures of airports in Cardiff, Luton and Heathrow. Most of the financial impact is bourne by the airport and airlines including:
Loss of landing fees

while the airport is closed

Cost of delays

higher staff, airport and handling costs as well as passanger compensation

Cost of diversions

additional landing fees, repositioning of aircraft and staff as well as passenger compensation
Cost of cancellations

passenger compensation and network effects

Environmental costs

from holding in the air, diversions and repositioning aircraft
Evidence showed that Geobear's solution could reduce a whole-day runway closure to between one and three hours. Savings vary between airport size with savings from one single runway closure being as much as £19.3m for a large airport.
5x
Reduction in time to perform runway stabilisation works
Cost savings based on reducing a whole day closure to 1 hour
The Transport Report was produced by Volterra consultants in partnership with Geobear:
Geobear created geopolymer injection and have been providing ground improvement solutions worldwide completing over 200,000 projects over the past 40 years.
Geobear has provided ground engineering solutions to:
Geobear are building smart infrastructure together with CSIC
Volterra is a niche consultancy specialising in the economics of transport and property development who provide advice to public and private sector clients based on 30 years practical experience
Volterra have consulted with::
Geopolymer Injection Delivers Ground Improvement 10x Faster Than Traditional Solutions
UPTO 40mm HOLES ARE DRILLED INTO THE SUBSTANDARD GROUND
THE GEOPOLYMER IS INJECTED IN ITS LIQUID STATE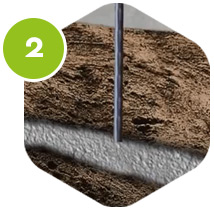 GEOPOLYMER FLOWS TO FILL VOIDS AND EXPANDS
GEOPOLYMER HARDENS WITHIN MINUTES GIVING 150kPA COMPRESSIVE STRENGTH
Geobear's solution is suitable for a wide variety of ground improvement works including:
Pumping/Rocking Slabs
Slab/Surface Settlement
Bridge/Approach Settlement
Voiding Behind Wing Walls
Water Ingress Reduction
Stabilisation of Sub-surface Structures
Improvement of Contaminated Soils
Bulk Void Filling
Incompetent Soils
Subsidence Features
Track Realignment
Residential Subsidance
Faster, Cheaper and Less Disruption than Traditional Methods
Geopolymer Injection

Traditional Maintenance

Typical Time Taken
Project Cost

££

Comparable to traditional methods

££

Solution Lifetime
Typical Density

30-300 KG/M³

2400 KG/M³

Curing Time

3 minutes

6 hours
M11 Emergency Ground Stabilisation
M11 Emergency Ground Stabilisation
Geobear was contacted by WSP to provide a design solution for a voiding and ground improvement. The focus throughout development and delivery was to "minimise the duration and disruption of the works without compromising safety". This was achieved by employing four crews, two working on the north and two in south bridge abutment simultaneously. The project was successfully delivered two days ahead of schedule (including additional treatment to areas outside of the initial scope).
Download the Full Report
Receive a full copy of the 52 page report
Free presentation of the results and impact on your industry
Option to arrange a free technical CPD session for your team
Download the report